Superfest Spotlight: A Q&A with the creator of An Apparition
What can we learn from the most despised insects about lockdown and embodiment? This film celebrates the ingenuity of a disabled filmmaker who is grappling with the pandemic and working with the actors he had access to.
Our Longmore Student Fellow Nathan Burns interviewed Raju, the director/producer/writer of An Apparition, which will screen at #Superfest35 this October 15-17. Read on and make sure to reserve your pass to Superfest now.
Nathan: What inspired you to create An Apparition?
Raju: On March 19th 2020, the COVID pandemic forced all the citizens of India into a twp day lockdown. The prime minister of India addressed the whole nation and everyone felt very positive and expected some good news, as everyone was under the perception that the two days lockdown would be enough.
During his address, the prime minister has declared a complete lock down in the whole nation for all the services excluding few emergency services and everyone went into a shock as everything is going to be at a stand still. But for me, a victim of GB syndrome, which I suffered while I was shooting for a film, it was just the regular norm. I was bedridden for so long it became habituated for me and was not a total shocker, the only bad thing for me was cinema halls would be shut.
My routine was following covid news, and tracking what's happening around and seeing the numerous deaths. I was in a disturbed state. One fateful night when I woke up to drink water and switched on the lights I saw two to three cock roaches under my bed which went into hiding as soon as I got up. I used to watch them for the next few days.
Until the GB syndrome attacked me I had a dream of making interesting movies but the GB syndrome took a toll on me mentally and physically as it took 3 years to walk by myself. But the dream of making movies didn't die within me.
During the lockdown, cockroaches helped me in generating the idea. I used to follow the news in which there were numerous instances of people violating the lockdown rules.
Nathan: What's the biggest take-away you hope audiences will get from your film?
Raju: In a country such as India, unifying every citizen is not possible but the pandemic made every citizen of the country freeze their activities. There are people who disobey rules but the context is also important. In such a grim situation one disloyal person could cause severe damage to not just fellow citizens but also his or her family members by spreading COVID. I wanted to portray the impact of such diffidence. Cockroaches are not creatures that can roam around freely and if they come out into the open there is a huge threat for their life. I wanted to show that people are no different in such situations; they can cause huge threats by not obeying social distancing and spreading the pandemic.
The COVID pandemic, especially in the second wave (May-June 2021), has caused huge damage in India because people did not follow the precautions laid out. I wanted people to understand the same well ahead and take precautions, and if even few were impacted by my film I would be glad.
Nathan: At Superfest, we often talk about disability being a creative and generative force in filmmaking. Rather than the "in spite of your disability" stories, many of our filmmakers find that their disability impacted their filmmaking and led to the unique voice or aesthetic their film brings. Does that resonate with you at all? If so, how?
Raju: The last project that I had done when I was completely active was a student project work for CalArts. During the shoot I was affected with GB syndrome and that mentally crushed me. I always wanted to make movies on the deepest issues that concerned India by travelling to remote parts of the country. But, after being bedridden, I have lost the confidence that I can work again on my own.
I have regained my confidence through "An Apparition." As the film made it into some respected film festivals, my thought process and my confidence level changed enormously. My emotional thoughts have changed a lot since 5 years ago. I am now able to connect to a myriad of subjects emotionally. I always thought of making films for the world but disability made me realise the essence of filmmaking - to make films that you like.
My thoughts are now more clear, I am able to understand a problem holistically, and connect to emotions very strongly. I believe that these traits have developed within me due to the disability I have.
Nathan: An Apparition was a result of pandemic restrictions in India and the resources you had at the time. How have these limitations forced you to be more creative with your filmmaking?
Raju: To start with, I initially had only a basic idea without any proper script but I understood during my film course at FAMU (Film and TV School of the Academy of Performing Arts in Prague) that filmmaking was never about portraying a story in a predetermined, cinematic way. The major weapon ruling the human brain was the mobile device but the limited cockroaches which I had in my home won't be enough to explain the story, so I have contacted 10 -11 of my friends from non-film background and asked them to shoot random videos of cockroaches.
The only question everyone asked is why? For which I had no answer as I had no story in my mind apart from the basic idea of common point between humans and cockroaches. Everyone felt disgusted or funny after asking them to shoot random videos. Surprisingly after one week around five members believed in me and sent me the videos. Some of them sent me the videos in portrait mode. The only responsibility I took as a director is to tell my friends to take the videos in landscape mode so that it would be feasible for editing and everyone obeyed. All the shots were taken in very basic models of smartphones.
Nathan: Most people think "ick" when they think of cockroaches, but there's a resilience that resonated with many of our jury members. Did you feel that connection? What prompted you to submit this film to a disability film festival?
Raju: Cockroaches are thought to be an entirely alien species by humans; we tend to not include them in any sphere of our life. I trust that every being, micro, small or big, has the same life within it and I look at all beings as the same. This philosophy of mine might have stemmed from the various experiences that I had in my life.
When I discussed this idea, many were reluctant to the idea of cockroaches being the central subject but I did not change my idea nor was I disheartened and instead I looked for people and places where my film would be welcomed. The very aspect that this film festival is dedicated to special people made me realise that the so called "off-beat" subject of my film would not be frowned upon by the people that overlook this festival. I was also confident that my film would be judged objectively without drawing parallels from other yardsticks.
Nathan: What surprised you while making this film?
Raju: The predominant notion is that to make a film you need a structured setup such as crew, technology, equipment, a proper script and a person who can balance all these. But neither before the start of this project nor while executing it I thought of all these drawbacks. I wanted to make a small video that deals with the contemporary issue by drawing a parallel between the most disgusted creature on the planet and human beings. The project could also have been executed by using animation or in other ways but I wanted to portray the nature in its raw essence.
What surprised me is the way my friends with no film background provided me with some stunning visuals – stunning in the sense that they were complete and provided me with the exact visuals that could convey my intentions. This made me realize that art is not restricted but it exists everywhere, and art is subjective to experiences not to knowledge or expertise. Additionally, I also understood that a person no matter where he is, locked up or free, can come up with creative thoughts and execute them well, all he or she needs is love and affection from his close ones.
Nathan: What about your film are you most proud of?
Raju: I loved experimental movies and the satisfaction/happiness that I gain in making them liberates me from the physical bondages, and I feel like I am a bird soaring up in the sky. When I was completely fit, I made a film "Slightly Mad," which took about 2 years to complete and it was not selected in "BRAINWASH Film Festival." Fast forward a few years and "An Apparition" made it into the same film festival. This boosted my confidence. As a filmmaker I may not appeal to everyone but art makers thrive on the accolades of others so I cannot completely discard the fact that I need to be motivated at times by appreciation and your selection helped a great deal in that aspect.
Nathan: Film festivals like Superfest showcase those stories that Hollywood often leaves behind. What do you want to see happen next for disability in film, on both a large and small scale?
Raju: Every art form has a platform to encourage it but it may not seem ideal to everyone. I trust that festivals that cater to specific needs or consider the situations of the film makers are rare. A disabled person can only achieve something when he/she is encouraged and only when the society makes him/her feel that he is on par with all the others he/she can feel comfortable with the situation.
Developed societies have better infrastructure and sentiments in place that encourage people with disabilities, but in many other countries disabled people struggle even for basic identity and a chance to compete. Struggling for trivial things such as getting out of bed, travelling, etc. may not be a huge burden for common people but for us those are nothing short of herculean. If we want to alleviate at least some of these concerns, empowering us with an opportunity to work in our field of choice is the only way out.
Filmmaking involves risk and money. When we invest money in the projects, support from festivals such as "Superfest" make us feel more comfortable. When you know that your work will be appreciated you will risk investing money in it no matter what the economics are. Everyone starts with a tiny, first step and encouragement from organisations such as yours boost our morale a lot.
Inequalities are universal. While some can be alleviated by way of dialogue others need action. In the creative field such partiality abounds. We can only walk where running is required from us so, we are left behind in the race by the industry. Cinema is a huge deal and we cannot make it by sitting at a single place but if we are not encouraged by our contemporaries we cannot proceed ahead even at a snail's pace. If the environment is not conducive enough, no matter how strong we believe in ourselves, a breaking point eventually arises.
Institutionally, I would like to see some policy changes such as reduced tariffs, a mandatory disability column in all applications and a separate recognised community for ourselves. Most important of all, a platform for sharing our experiences with the bright minds of the industry, I believe, would do a great benefit to us all.
Nathan: What are you currently working on?
Raju: I have in stock 2 to 3 different abstract ideas and of those, I would like to select one particular idea and work on it differently. I want to work and execute a project that is extremely novel and sets a paradigm. As the budget that I can garner is limited, I would need to collaborate with talented, young people who are willing to put passion ahead of monetary benefits. The work flow is to ready the script, and at the same time improve my technical expertise. My film studies, to a large extent, will help in this aspect and I tend not to focus on my disability on working on my project as I believe that I can execute any script. That is the driving force for me and I trust that I can compete with anyone out there.
-
JOIN US FOR AN APPARITION AND MORE AT #SUPERFEST35: SUPERFESTFILM.COM/SUPERFEST-2021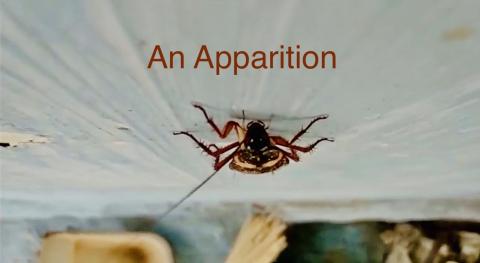 Tags