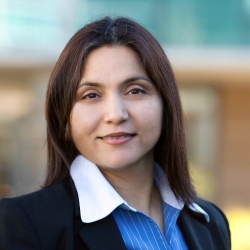 Sara Kenkare-Mitra
Advisory Committee
Biography
Sara Kenkare-Mitra, Ph.D., is currently Senior Vice President of Development Sciences, a translational sciences organization that spans R&D at Genentech. In this role she has responsibility for ensuring the successful translation of promising molecule-discoveries from Research into Development.
Sara has had a significant impact on the development of a number of biologics and small molecules leading to Genentech's key product approvals including Avastin, Tarceva, Lucentis, Xolair, Erivedge, Perjetta and Kadcyla. In addition, more than 50 Investigational New Drug applications with potential to treat a multitude of diseases in particular cancer, have been filed by her organization with US and ex-US regulatory agencies. At Genentech she is a key member of the technical and portfolio decision making committees.
Sara also holds adjunct faculty positions at UCSF in the Department of Bioengineering and Therapeutic Sciences and the University of the Pacific in Stockton. She has a passion for developing therapies to meet significant unmet medical needs with a strong scientific basis and an emphasis on personalized medicine. Sara was elected to the Institute of Medicine, National Academy in 2014.

 Selected as one of the 150 Most Influential Business women by San Francisco Business times in 2011, one of the 150 top alumni of UCSF in 2015, she has also won awards and recognition at Genentech not only for her excellence in leadership and mentorship, but also for her passionate commitment to the healthcare industry as a whole. Sara serves on the board of directors of the Genentech Foundation, a US based private charitable foundation. She also sits on the board of directors for AWIS, the Association of Women in Science.