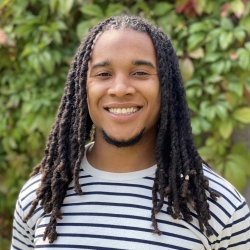 Philip Jones
( He/Him/His )
Longmore Student Scholarship Fellow
Alt text: A close portrait of Philip, a person with dark skin and long hair, smiling in front of green foliage wearing a black and white striped shirt. 
Philip Jones is a Master's in Social Work student at San Francisco State University. Professionally, he works for the Oakland Youth Advisory Commission and is also a graduate intern with San Francisco Jail Behavioral Health Services.
Philip's biggest passion in life is uplifting those in communities of color who have experienced the same hardships he experienced as a young adult. His professional and personal life are centered around service and equipping people with the tools they need to succeed. In his current role working with the Oakland Youth Advisory Commission, he works in collaboration with youth invested in social justice issues, uplifting their voice, and supporting them as they advise and contribute to important projects and decisions in our local government and community. In his first year internship with San Francisco Jail Behavioral Health Services, he works with young adults experiencing homelessness, disabilities, substance use disorder, as well as trauma while navigating the criminal justice system. He is on the Board of Directors for San Francisco Pretrial Diversion Project, a Bay Area-based non-profit that aims to facilitate positive and effective alternatives to fines, criminal prosecution, and detention. He also holds a seat on San Francisco's City and County Mental Health SF Implementation Working Group overseeing programs, policies, and projects affecting the San Francisco mental health services system of care. In his second-year graduate internship, he will be working in San Francisco's Zuckerberg General Hospital Inpatient Neurology Department prioritizing care for patients with disabilities and other mild to severe neurological impairments. In the future, he will continue to protect and honor the needs of his community and utilize his career to improve the efficacy of services and systems of care within it and beyond.