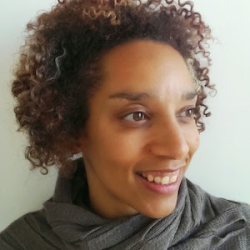 Alice Sheppard
Advisory Committee - Emeritus
Biography
Alice Sheppard earned a Ph.D. in Medieval Studies from Cornell University and was granted tenure and promotion to Associate Professor of English and Comparative Literature at the Pennsylvania State University.  She is now a professional disabled dancer.
Alice began her dance journey in response to a dare.  When disabled dancer Homer Avila challenged her to take a dance class, Alice accepted casually.  She later fulfilled this dare as a way of honoring her conversation with Homer.  In 2006, Alice debuted with Infinity Dance Theater.  After a brief apprenticeship, she joined AXIS Dance Company in 2007.  In 2012, Alice became a freelance dancer and has since worked with companies in the United Kingdom and the United States.  Alice seeks to create and perform in work that changes our societal and cultural understandings of disability.
In addition to her performance work in the arts, Alice has varied roles in the not-for-profit world.  She has been on the Board of the Society for Disability Studies and is currently a board member of the Urban Bush Women, a Brooklyn-based dance company.  Alice co-founded BrainDance Foundation, a private family foundation that advises its grant recipients in articulating their mission, changing vision to action, sustainability, and leadership.  She also advises the Bayesian Modeling Agency which invests in biomedical startups and identifies consumer-oriented uses for biomedical technologies outside the traditional prescription medical device framework.
Alice is honored to support the mission and vision of the Longmore Institute.