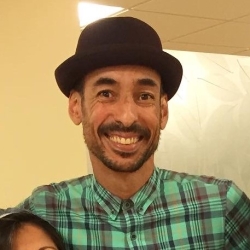 Robert Strawder
( He/Him/His )
Longmore Student Scholarship Fellow
Alt text: Robert, a person with light brown skin and facial hair, smiles at the camera in a zoomed-in shot. He wears a black hat and a green plaid button-up shirt. 
Robert is a biracial son of blue-collar parents who came to the west coast to find more open-minded communities than their hometowns. They didn't let society get in the way of their love and they had Robert and his brother, Andrew. This bicultural background gave him an insight into life and the nuanced code-switching cultures he navigates.
Robert began his professional path in health care by getting a job as a Residential Counselor with Larkin Street Youth Services. He started in SF's Tenderloin at the Lark-Inn, Emergency Shelter. Here he had first contact with 100's in need youth providing food, hygiene resources, and 40 beds. It's here where he would really grow professionally and realize this was more job and could be a career.
However, Robert's life's journey was irreversibly thrown off course in 2012 when almost died in a house fire in San Francisco's Mission District. He suffered 3rd-degree burns across 75% of his body. Jumping out of bed and bolting out of the room he started running down the hall to escape.
The Burn Survivor community is amazingly supportive and they lead him to volunteer to work as a group facilitator in 2014 with new survivors. Both with the Phoenix Society of Burn Survivors and the Alisa Ann Ruch Burn Foundation; where he continues to help new families with what to expect when they discharge from the Burn Unit into home care.
So returning to college he got his AA in History and Education from CCSF and transferred to SFSU where he graduated in 2021 with a BA in History and a Minor in Africana. The path to being a counselor now brings him to SFSU's Grad Dept of Counseling. His next phase now has him preparing for his journey for his Master's in Science as a Clinical Mental Health Counselor (CMHC) with the academic and professional goals of becoming a Licensed Professional Clinical Counselor (LPCC).