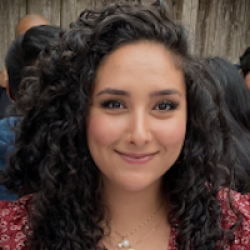 Iyah  Turminini
( She/Her/Hers )
Longmore Student Scholarship Fellow
Alt text: Iyah, a Southwest Asian North African woman, smiles at the camera in a close portrait. Wearing a red floral dress and has dark brown curly hair. 
Iyah Turminini (she/her) is a graduate student in the Masters in Counseling program at San Francisco State University, specializing in Marriage and Family Therapy with an emphasis in Clinical Mental Health Counseling. She completed her undergraduate education at the University of California at Berkeley, graduating with honors with dual degrees in Sociology and Interdisciplinary Studies. While pursuing her undergraduate degree, Iyah fell in love with activism and the power of collective action, and that has translated into a deeply-rooted passion for social justice, anti-racism, and abolitionism. Since graduating from Cal, Iyah has held positions in Big Tech and has over half a decade of experience in civil law as a paralegal. She previously interned with COOP Careers, where she focused primarily on working with first-generation and immigrant young adults who are navigating imposter syndrome, acculturative stressors, and various realms of trauma. In the 2022-2023 academic year, Iyah is excited to be interning at Longfellow in Berkeley, a historically under-resourced middle school with a vibrant and diverse student population.
Iyah identifies as a queer, neurodiverse SWANA (Southwest Asian North African) woman, devoted practitioner of liberatory psychology and healing, and war survivor.  She gets fired up about battling apathy, injustice, and oppression as a fierce accomplice, advocate, and activist committed to promoting compassion, equity, and sustainable community building and change. Iyah's mental health praxis is grounded in trauma-informed, intersectional, disability justice, and decolonial healing principles. In the future, she hopes to work with folks facing a wide spectrum of challenges from a variety of backgrounds, but is particularly interested in working with racialized minority women and femmes experiencing anxiety, acculturation-related stress, ADHD and other neurodiversities, and trauma.