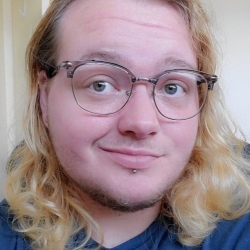 Oleander Redmond
Longmore Student Scholarship Fellow
Alt text: Oleander, a person with light skin, smiles at the camera wearing glasses, a blue shirt and has blonde wavy hair. 
Oleander Redmond (they/them, he/him) is a graduate of Berkeley City College's biotechnology A.S. program and currently attends San Francisco State University as a microbiology major/chemistry minor. They plan to attend graduate school to study infectious diseases and epidemiology after receiving their degree from SFSU.
They discovered their passion for microbiology and public health while working in a lab testing medical cannabis products for pathogenic microbes such as E. coli and S. enterica. Oleander is a nonbinary disabled person who identifies as chronically ill, and they hope to bring their unique perspective to future public health work.