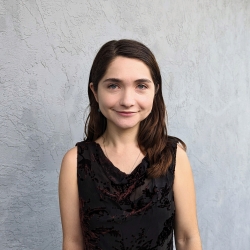 Mia Shackelford
( She/Her/Hers )
Longmore Student Scholarship Fellow
Alt text: Mia, light-skinned and with brown hair, stands in front of a grey wall wearing a black shirt with a velvet design. She smiles at the camera. 
Mia Shackelford is a nursing student pursuing a combined BSN/MSN through San Francisco State University's accelerated entry-level master in nursing (ELMA) program.
Mia is particularly interested in reproductive and community health specialties and completed her senior preceptorship in the postpartum unit at John Muir Walnut Creek Medical Center. Mia is passionate about empowering people to live meaningful and happy lives through accessible, affordable, high-quality healthcare. Prior to beginning her nursing education, Mia worked as an analyst at McKinsey & Co., helping healthcare organizations achieve their strategic and operational goals.
She is most proud of her work supporting public health officials with testing strategy and analytics during the COVID-19 pandemic. While at McKinsey, Mia served as one of the leaders of the firm's global affinity group for employees with disabilities, doubling membership through a multi-continent awareness campaign. Mia graduated summa cum laude from Scripps College with a B.A. in Mathematical Economics. She was born and raised in San Francisco and now lives in Berkeley with her partner, Rudy.