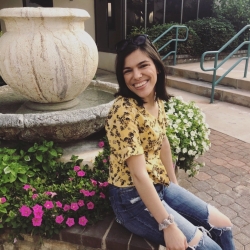 Angela Evenich
( She/Her/Hers )
Longmore Student Scholarship Fellow
Alt text: Angela is sitting down near a water fountain and smiling at the camera. There are pink and white flowers around her. She is a white woman with shoulder-length dark brown hair, wearing a yellow blouse with flowers, ripped blue jeans, and a pair of black sunglasses on top of her head.
Angela Evenich (she/her) is a first-year graduate student in the Speech, Language and Hearing Sciences program here at SF State. During her time as an undergraduate at CSU Sacramento, she advocated for disability visibility and acceptance throughout the campus community. She delivered several presentations on the meaning of disability and ableism, wrote two nationally published articles related to her perspectives as a disabled person with cerebral palsy, and facilitated student-led focus groups on disability identity and its role in the university's antiracism and inclusive campus plan. She continues to be involved in disability advocacy efforts through collaboration with various organizations and other disabled people.  
During her free time, she enjoys spending time with family and friends, exploring new places, and trying new coffee shops! One of her favorite memories is going to Half Moon Bay and having a picnic on the beach with some of her closest friends. Being born in the Bay Area, she always feels at home and her happiest when she's there.